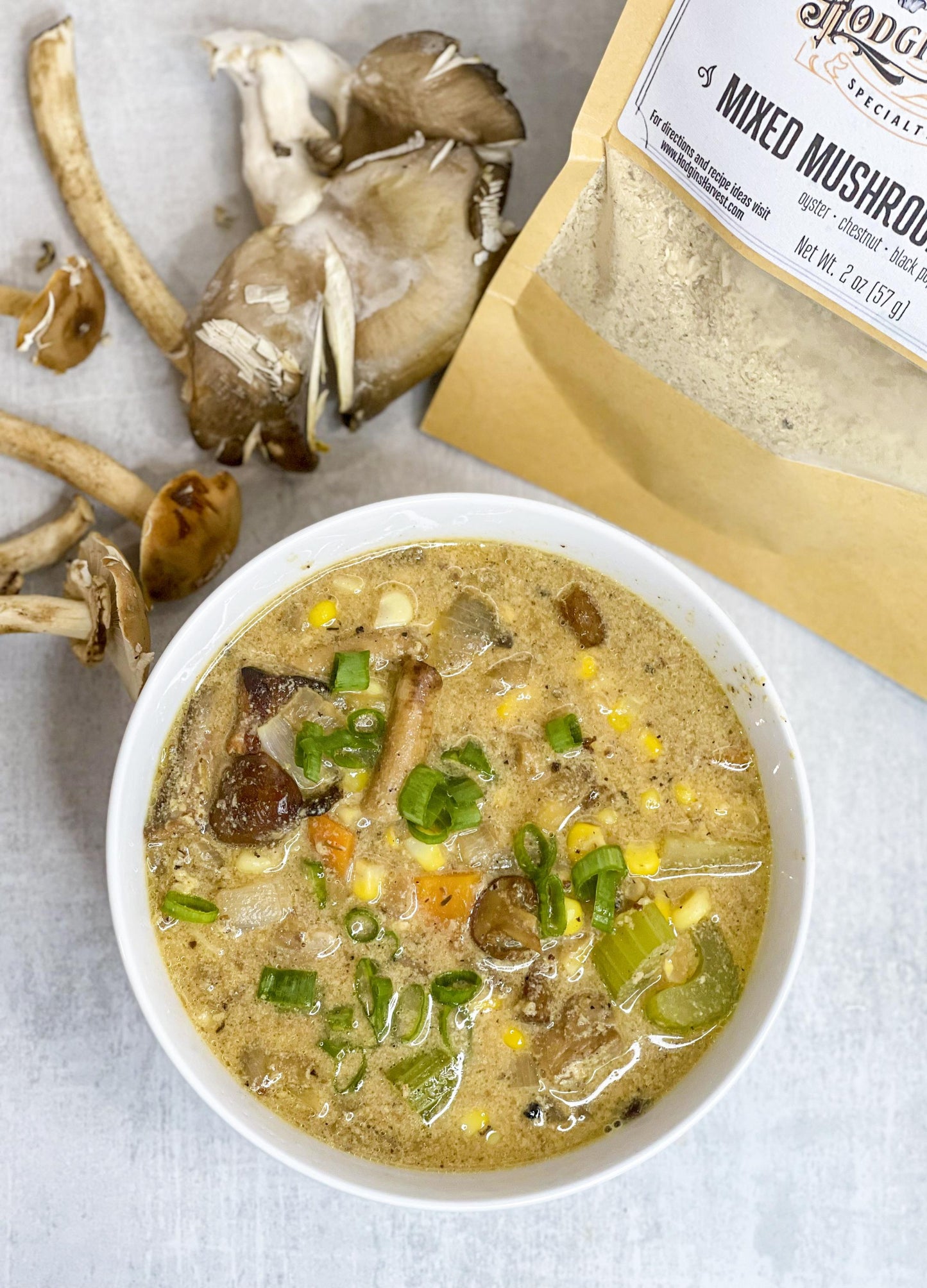 Cozy up with Mushroom Corn Chowder. Made with a variety of fresh mushrooms and our Mixed Mushroom Powder, this soup is full of flavor!
Ingredients used to make Mushroom Corn Chowder
For the Stock
Half and Half or Heavy Cream
For the Mushroom Chowder
Corn kernels (frozen or fresh)

Bacon

Butter if you are not using bacon

Fresh Mushrooms - Oyster, Maitake, Shiitake, Black Poplar or Chestnut Mushrooms are great choices for this dish, but use whatever you have access to.

Shallots

Onion

Carrots

Celery

Yukon Potatoes

Mixed Mushroom Powder- This mixed mushroom powder is made from Hodgins Harvest organic mushrooms. It adds a great umami flavor to this chowder.

Garlic Powder

Cayenne Pepper

Salt

Pepper
Making the corn stock
Cut the kernels off the cob and set them aside for later.
In a large pot, add chicken broth, milk, and half and half or cream. Bring the pot to a boil. Once boiled, reduce to a simmer and put the cobs in the pot. Simmer, uncovered for 20 minutes while you make the rest of the chowder. After 20 minutes, remove the corn cobs and the stock is ready.
Making the chowder
Heat a large dutch oven or pot over medium heat. Slice the bacon into one-inch pieces. Add the bacon to the pot. Stir occasionally and cook until brown, about 10 minutes. Remove the bacon and set it aside. Using tongs and a clean paper towel, remove some of the bacon fat. Next, in the same pot add sliced mushrooms, diced onions, diced shallots, diced celery, and diced carrots. Mix everything together and cook uncovered for 5 minutes. Add Mixed Mushroom Powder, garlic powder, cayenne powder, salt, and pepper to the vegetables. Mix together and sauté for another 5 - 7 minutes. After that, pour the stock into the pot with the vegetables. Next, add cooked bacon, peeled and sliced potatoes, and corn kernels. Cover and cook on low for 20 minutes. After that, garnish with sliced chives and serve.
** If you are using frozen corn, take the corn out of the freezer a half hour before use and add it to the soup at the same time you would add fresh corn.