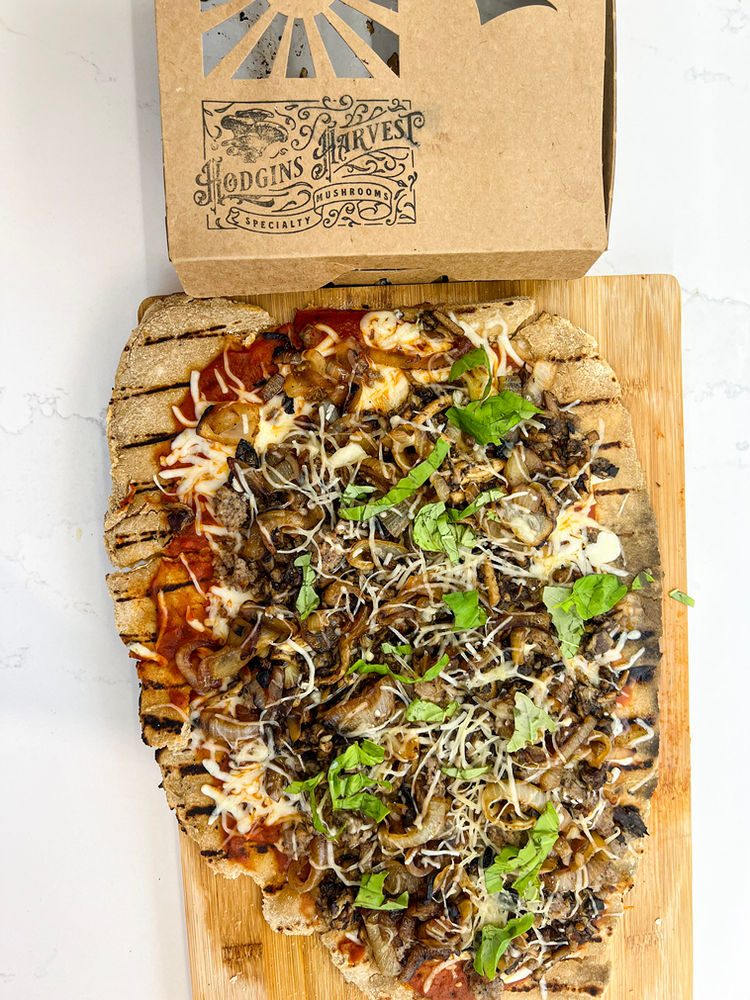 Level up your grilling and pizza experience this spring with this
Mushroom and Sausage Grilled Pizza
. Made with an easy-to-make homemade dough and topped with a v
ariety of specialty mushrooms
, caramelized onions, and mozzarella cheese.
Ingredients used to make this pizza
Homemade Dough Ingredients
If you would rather use store-bought you can do that. If not, gather these simple ingredients to make delicious pizza dough.
Whole Wheat Flour or Regular Flour- Whole Wheat flour makes the dough a little sweeter which works really well with this pizza.
Variety of Speciality Mushrooms
Shredded Mozzarella Cheese
Begin by making the dough (optional)
Whisk water, oil, honey, and yeast in a liquid measuring cup and allow the yeast to proof for 5 minutes. In a stand mixer with a dough hook, mix the flour and salt. Slowly pour the water mixture and knead at medium speed until a ball forms. Pour the dough onto a floured surface and roll into a circle.
After that make the caramelized onions, ground sausage, and sautéed mixed mushrooms.
Melt butter in a large pan on high heat. Add onions and cook- stirring frequently for about 5 minutes. Add 2 tablespoons of water and continue to mix. Cover and cook for about 5 more minutes then mix everything together. Add 2 more tablespoons of water and mix. Keep doing this until the onions are a nice golden brown, about 15 minutes total. Once cooked set the caramelized onions aside until you are ready to build your pizza.
Heat a different large pan over medium-high heat, and add ground sausage to it. Cook sausage until browned, breaking it apart with your spatula into crumbles.
Slice the mushrooms into bitesize pieces. Remove the cooked sausage from the pan and set it aside. Add mushrooms, mixed mushroom powder, Italian seasoning, salt, and pepper to the same pan you used to cook the sausage. Do not remove the grease. Use this grease to sauté the mushrooms. Toss everything together. After that, cover and cook for about 5 minutes. Mix everything then cover and cook for another 5 minutes. Once they are sautéed set them aside to add to the pizza.
Begin by preheating the grill to medium heat. Next, lightly spray both sides of the pizza dough with avocado oil. Place directly on the grill and cook for two minutes. Take the pizza dough off the grill. Add pizza sauce, caramelized onions, sautéed mixed mushrooms, ground sausage, shredded parmesan cheese, and shredded mozzarella cheese to the grilled side of the dough. Turn the grill down to low, cover, and cook for another 5 minutes or until the cheese is melted. Top with fresh basil, slice, and enjoy!