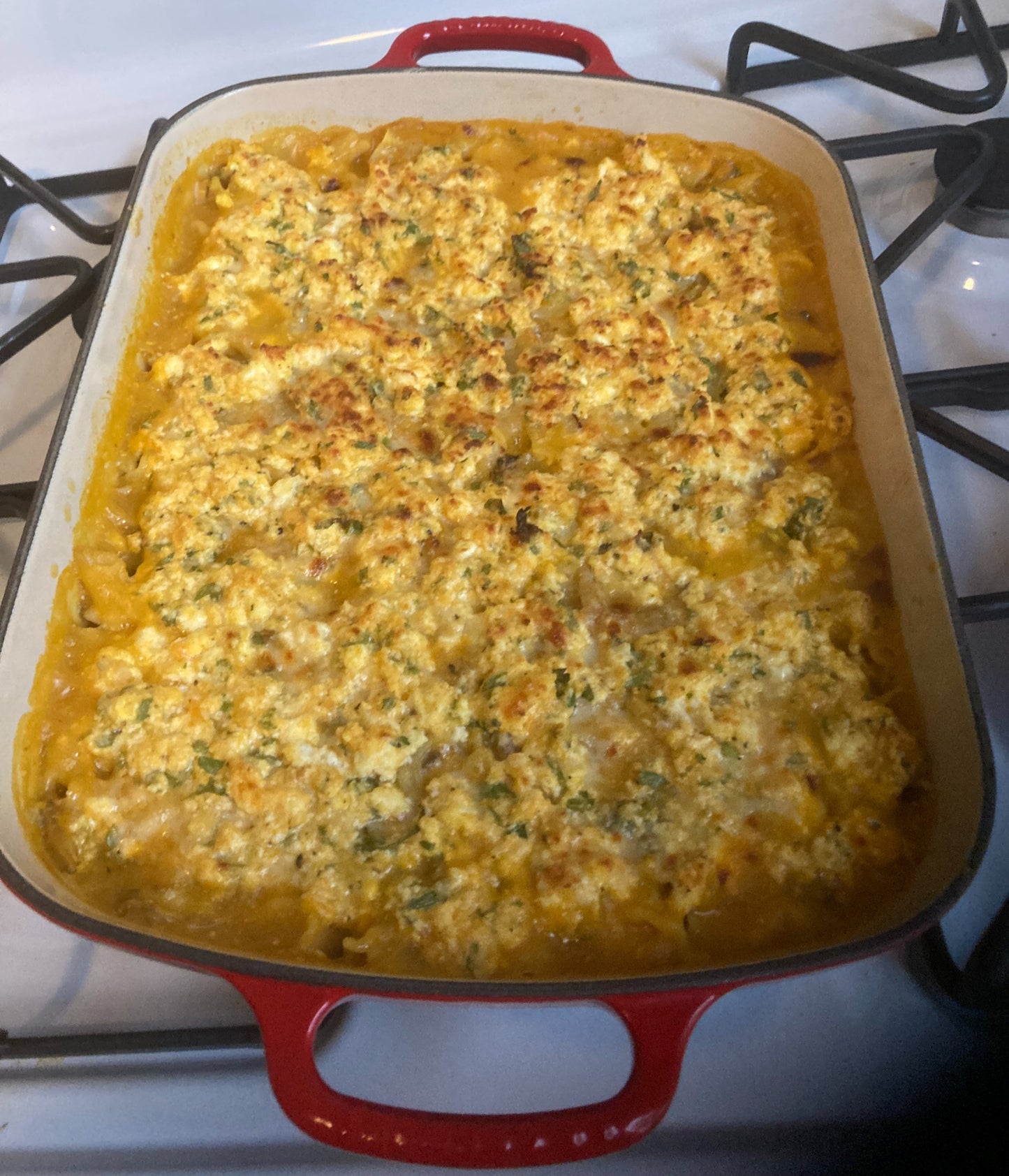 What you need:
½ gallon pasteurized milk (not ultra-pasteurized)
3 TB lemon juice
3 Honeynut squash or 1 large butternut squash, enough for 2 cups cooked puree.
1 lb fresh mushrooms: Lion's Mane or Hen-of-the-Woods (Maitake) work great.
Olive oil for sautéing
1 cup grated Parm
1 cup grated aged gouda or extra sharp cheddar
½ cup chopped fresh parsley
½ tsp dry oregano or 1 tsp fresh oregano
2 pinches nutmeg (freshly grated if possible)
1 lb dry pasta
What you do:
Roast squash at 390℉ in a dry pan until tender (20-30 minutes). Let cool. Remove seeds and skin, and set aside.
Heat milk over medium heat till warm but not hot. Add lemon juice and continue to stir and cook until curds form and the remaining liquid turns clear-ish (this is the whey). Spoon the curds into a strainer, no need for cheesecloth, you've just made ricotta cheese! Reserve any drained whey, you'll need it to boil the pasta with later.
Sauté mushrooms in olive oil until they lost most of their moisture and turned golden brown.
Mix ricotta with ⅔ cup of grated parm and ⅔ cup of gouda/cheddar, add parsley, oregano and nutmeg, salt & pepper to taste.
Boil the whey that you set aside and add the dry pasta. There should be enough liquid to just cover the pasta, add a bit extra water if needed but it's fine if the pasta is poking out the top a little. Stir often until it returns to a boil, then add the squash and mushrooms. Mix everything together into a smooth consistency. When it comes back to a boil, turn off the heat, add the remaining 1/3 cup of grated parm and gouda/cheddar and mix well.
Pour into an approx. 9 x 13-inch baking dish, top with ricotta/grated cheese mix and a light dusting of parm.
Bake at 390℉ till bubbly, 20-30 min. If it's bubbling but not brown, finish it off with 1-2 minutes under the broiler setting while watching it closely.
Let rest for 20 min if you can resist, I couldn't.